Race to Representation!
By Dr. Jennifer Lawless on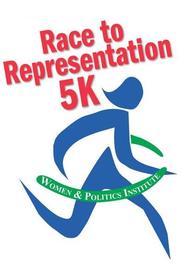 It is impossible to deny the substantial progress women have recently made in government and politics. Over the course of the last 30 years alone, the number of women in Congress has more than tripled. Nancy Pelosi served as the Speaker of the House of Representatives. And Secretary of State and former U.S. Senator, Hillary Rodham Clinton, received 18 million votes in her 2008 bid for the presidency.
Despite these stories of political success, the U.S. still ranks 90th worldwide in the percentage of women serving in the national legislature. When the 112th Congress convened in January 2011, 83 percent of its members were men. Three-quarters of statewide elected officials and state legislators are men. Men occupy the governor's mansion in 44 of the 50 states, and they run City Hall in 93 of the 100 largest cities across the country. Moreover, whereas the 1980s saw a gradual increase in the number of women holding public office and the 1990s experienced relatively dramatic surges, the last several election cycles indicate a plateau at the state legislative level and only marginal increases at the federal level.
Clearly, we're not racing the representation. Indeed, we're barely even schlepping to representation. But the Women & Politics Institute at American University hopes to change that this Saturday. We will hold the inaugural 5K Race to Representation, a run (or walk) that calls attention to the dearth of women in politics and encourages women and men of all ages to work to ensure that women's representation in all realms of politics increases.
And we've been breaking our backs – or, perhaps more aptly put – our legs training for this race. When we decided at the end of July to hold the race, it is no exaggeration to say that I had never run for more than 60 seconds (in a row). But with the help of friends and the internet, the staff of the Women & Politics Institute put together a training plan that has served us well.
Granted, I doubted us at many steps along the way. "How are we possibly going to run for 4 minutes, walked for 5, and then run for 4?" I wondered a couple of weeks into the training program. "That's impossible," I declared with complete conviction. "What do you mean we have to walk for 10 minutes, run for 10, and then walk for 10 again?" I asked with an utter sense of disbelief when I looked at a day's schedule midway through the program? "Run 1.5 miles? In a row? Are you kidding me?" began a workout at the beginning of October.
But we persevered. And we always achieved what we set out to do. We now run 3.1 miles like we've been doing it forever. Don't get me wrong – we're still slow. Very slow. Or, at least I am. But there's no question that we can run a 5K race when the cause is worth it, and this cause certainly is!
It's not too late to register for the race! Although online registration has closed, you can register at 7 AM on Saturday. Click here for more details here.
And to learn more about the Women & Politics Institute, please visit our website!



Related Blog Posts
We've trained 565 people this year through POP

Mitt Romney's Views on Choice Depends on Who's Asking

Big Endorsement in Tight Indy Mayor Race
Sign up for our email list